Digital Printing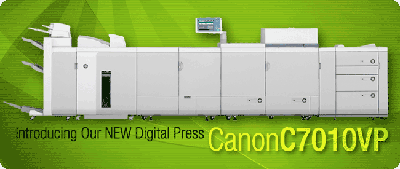 Digital Press
Print is Personal! Variable Data printing allows you to market to your customers based on what you know about each one — their previous purchases or expressed areas of interest. This truly targeted marketing vehicle will help increase revenues, response rates, and even forge better relationships with your customers — a goal that goes beyond numbers.
With 10 years of digital printing experience, Saturn Printing understands variable data printing and the need for quality on-demand printing. We can provide you with the highest quality in digital printing available today. We offer sophisticated print on demand solutions to meet your every need.
Our new Canon 7010VP is complimented with Fiery technology for the most robust speed for data and artwork processing.
Web to Print Storefronts, Cross-media, Digital Asset Management. Speak to an audience of one. Saturn Printing offers the latest in digital communication, from simple mail merges to highly sophisticated one-to-one marketing campaigns, data manipulation, and more. Variable text, images and graphics can be tailored to a specific individual based on logic.
Our digital consultants are ready to help with your next print marketing campaign.